Carpet Professional Cleaning
Latest posts by Rawat Surender Singh
(see all)
CARPET Professional Cleaning Program
The CARPET program includes the widest range of machines and accessories for professional carpet cleaning, developed to solve cleaning problems in any size area. The whole range is characterized by reliability and robustness.
Klindex India has developed its own method for the professional cleaning of carpeted areas that achieves better results than any other system available.
The following points are focused on:
­Quality results: the carpet is clean like new and it gets dirty again slowly, like a brand new carpet
Extremely reduced drying time: the carpet can be dry in 1 hour!
User-friendly cleaning operations: the operator's time and effort are considerably decreased.
::APPLICATION AREA ::
Injection-extraction system
High Water-lift
Mechanical brushing action
Instant hot water system
Carpet per-spraying
Automatic chemical dosing
Carpet rinsing
Maintenance and restorative deep cleaning
Lower water consumption and shorter drying time
Reduced consumption and environmental respect.
Grace-Silent (Professional SET)

Cleaning Width : 40 cm
Max. performance: 220 m²/h
Tank capacity: 70/70 Litres
Max. Waterlift :3400 mm H20
::Detailed Description
The Grace-Silent Professional SET is obtained by adding to the Grace-Silent machine some special optionals, enhancing the cleaning performances and ensuring: excellent cleaning results, speed and easiness of cleaning operations, short drying time and slow re-soiling of carpet after cleaning. Even dirty carpets are cleaned in a single pass and can be dry in one hour. All the cleaning factors are combined in an optimal way: chemical action, temperature, mechanical brushing action, vacuuming, time. 
The  Grace-Silent Professional SET includes:
The machine body and H35-RAGNOL50-T hoses
The NS300-M wand
The NS10ALL-M aluminum hand-tool, for cleaning upholstery and hard-to-reach spots
The HT1800 instant hot water unit
The complete SMARTKIT-EL with PRESPRAY-EL, to perform automatic chemical dosing, per-spraying and carpet rinsing.
The NS400BRUSH power brush tool
It is possible to choose a different power brush as well. Check the specific machine and order the machine itself plus the different accessories you prefer. 
Elite-Silent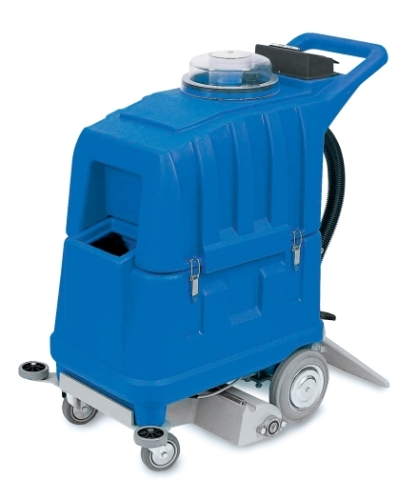 Self-contained machine, which allows you to clean quickly large carpeted areas, with the comfort of walking forward. Particularly quiet, it is the ideal machine for hotels.
Max. Performance

:

550 m²/h
Tank Capacity

:

50/50 Litres
Max. Waterlift

:

3400 mm H20
::Detailed Description
Elite-Silent is a self-contained extractor for carpet and hard floor with manual traction. It washes, brushes and dries a stripe of 50 cm of carpet, moving forward, cleaning up to 500 sq. meters in one hour. Its 3 stage high-waterlift vacuum system allows to recover the maximum quantity of dirt from carpet and to get a shortest drying time.
Elite-Silent is a very silent machine, since it works with 60 Decibels only. It is possible to adjust the brush and vacuum head pressure, according to the type of carpet. The water-flow can be regulated, for a maintenance low-moisture cleaning or a restoration deep-cleaning.
Elite-Silent can be supplied with the instant hot water unit HT1800. If equipped with the patented SMARTKIT system, it is possible to perform automatic chemical dosing, carpet pre-spraying and rinsing. The optional squeegee SQ720E allows to clean hard floor. An extra brush, specific for hard floor cleaning, is also available.
Main Application Areas: Cleaning companies, hotels, conference halls, restaurants, clubs, pubs, offices, banks, shops, cinemas, theatres, ferry boats, ships, airports, fitness centres, school, universities, shopping centres, places of worship, mosques and all places with large or middle-sized surfaces of carpet.